By Greg Hernandez
Culinary Arts Executive Chef Instructor Leslie Riley had important cooking tips to impart on a group of Los Angeles LGBT Center seniors during a recent demonstration on how to make Eggs Benedict.
But the most important one came when she briefly touched a hot pan.
"Don't do that!" she warned. "I have like no fingerprints left!"
Riley gave the first of what are expected to be monthly cooking demonstrations for residents of the new Ariadne Getty Foundation Senior Housing complex.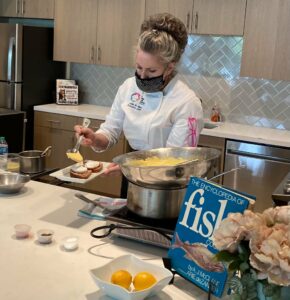 The lessons are an opportunity to tell the residents about the Center's 300-hour Culinary Arts program which takes place in a commercial kitchen that, like the new apartments, are part of the Anita May Rosenstein Campus.
The intergenerational program, launched in 2019, is comprised of the Center's youth and senior members who get paid $15 an hour while participating in the training.
"We have this really unique program where we have our seniors and our youth getting trained to work in a professional kitchen," the chef told the group. "Many go on to find jobs in the industry but even if not, it's a great life experience and we give our students the tools they can use for themselves and their families. We find that the interactions between the seniors and the youth is really special."
Riley said the aim is to demystify cooking which may seem hard and mysterious to some.
During the Eggs Benedict session, the chef gave egg poaching and hollandaise sauce-making demonstrations and gave the classic breakfast dish her own spin by using a rustic multi-grain bread instead of the usual English Muffin and pancetta instead of Canadian Bacon.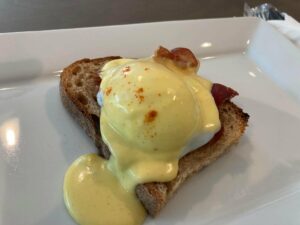 She served the dish to all in attendance and encouraged the seniors to feel free to get creative when they try the dish in their own apartment kitchens.
"If you like fried bologna I totally encourage you to use that because it's delicious," Riley said. "You can put hollandaise on a shoe and it's going to taste great."
Riley sense of humor surfaced frequently such as when she was explaining how long it would take to poach several eggs: "It might take longer if you're drinking mimosas and chatting with the neighbors."
Some of the residents of the 98-unit building said they are looking forward to some more cooking instruction in the community kitchen located on the first floor of the building.
"Leslie is very personable and very clear and structured with the information she's providing. She is very precise, and letting you know what to do and how to do it," observed resident Jessica Sutton. "It was wonderful to feel invited to return whether or not we want to do the culinary program."
Resident Edward Vela said after the lesson: "I've never made hollandaise in my life. I'm going to actually try so we'll see how it goes. I can make certain dishes but I don't know how to really cook. I'm not sure if I'm going to go in to the culinary program because it's a commitment. But I'm thinking about it."
The culinary program is for youth ages 18-24 and seniors ages 50 and over. The program consists of four weeks of basic culinary skills development, four weeks of preparing meals for Center clients and events, and a four-week internship at a local restaurant.