By Greg Hernandez
Steven Abeyta picks up the free lunch in the courtyard outside of the Los Angeles LGBT Center's Harry & Jeanette Weinberg Senior Center about three times a week.
Last Wednesday, he was pleasantly surprised to find a farmers market had also been set up in the courtyard and he enthusiastically began selecting some fresh fruits and vegetables to take home.
"I'm vegan so this is great," Abeyta said. "I grabbed green beans, tomatoes, cucumbers, strawberries, squash, a melon, and some mushrooms."
The Center's Senior Services has teamed up with Seeds of Hope, a ministry of the Episcopal Diocese of Los Angeles, to offer a monthly farmers market outside the senior center.
"With seniors, we are trying to give them things that don't need to be prepared or cooked for a long time," explained Seeds of Hope Nutrition Program Coordinator Steven Trapasso.
"So there's a lot of fruit, lettuces, cucumbers, tomatoes. Things you can take out of your refrigerator and eat or easily make a salad with. If we brought an eggplant, it would take work to break it down and eat it."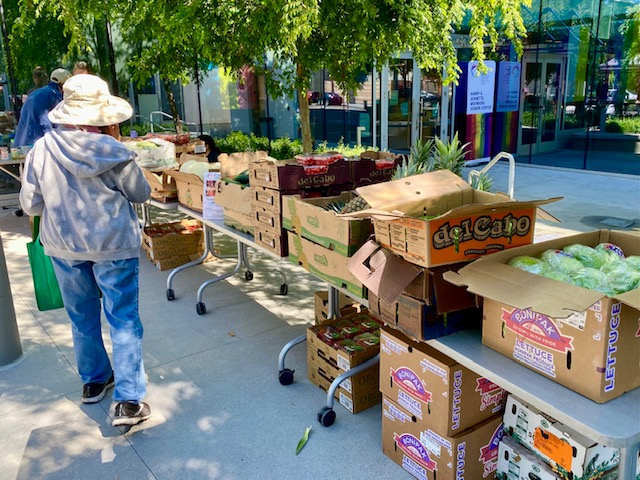 Even before the COVID-19 pandemic, 21% of seniors were experiencing food insecurity. Those registered with the Center's Senior Services have access to the farmers market in addition to the Center's Pride Pantry which opened during the early days of the pandemic and free lunches prepared each weekday by students of the Center's Culinary Arts program.
Abeyta has been especially grateful for any assistance during the pandemic.
"The Center has been a huge help and it has given us an opportunity for community," he said. "It's really been a great, great service. We really rely on it and I appreciate it so much."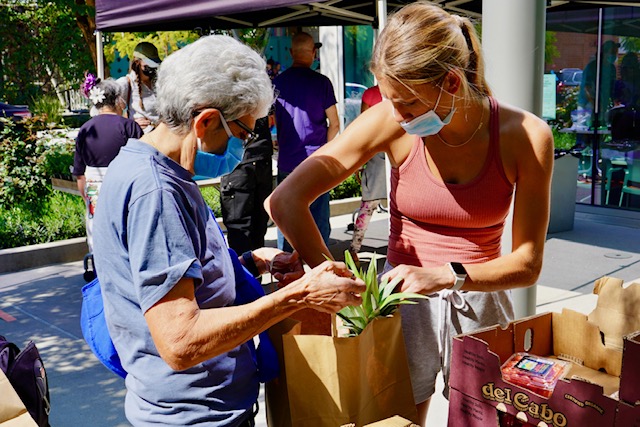 Fellow senior Hermina Ban already had lettuce and cucumbers at home but she filled her bags with string beans, pineapple, tomatoes, strawberries, mushrooms, and squash and called the overall selection "unbeatable."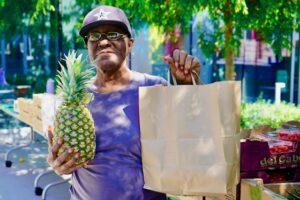 "This is top-quality stuff and all so fresh," Ban observed. "I don't feel like I'm a second-class citizen getting leftover produce or food that is getting ready to be on sale because of an expiration date."
Senior Services Activities Coordinator Veronica Macias said the Farmers Market will alternate on different Wednesdays as it will also be held monthly at The Ariadne Getty Foundation Senior Housing and at Triangle Square, the Center's affordable housing complexes for LGBT seniors.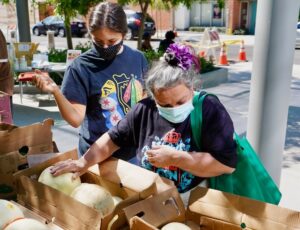 "They get to shop," Macias said. "It's like that shopping experience that you might get if you go to the grocery store or a farmer's market. Sometimes the prices for fresh produce are not something a lot of folks can afford and a lot of this is organic. It's also just really great to offer an event in person again that's outdoors, that's safe, but also educational and engaging."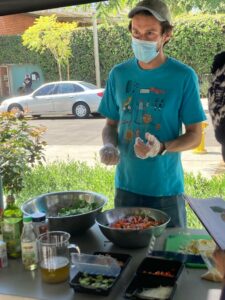 In addition to providing the produce, Seeds of Hope also provides some kind of practical cooking demonstration each time. At the kickoff farmers market, Trapasso showed seniors how to make a lemon garlic vinaigrette, tossed it into a salad and handed out samples.
There is also a plant-based activity each time to go along with the food distribution and the cooking demonstration.
Seeds of Hope Gardening Specialist Ashley Crosswhite handed out four-inch pots of herbs that included a choice of mint, chives, rosemary, cilantro, and flowers.
"We help them pot up the plants and give them the water and sun requirements for them to take care of it wherever they go," Crosswhite explained. "It's a nice activity and there is therapeutic value to taking care of a plant and harvesting from it and there's positive anticipation around cooking with herbs or using them in teas."
To learn more about the Center's Senior Services, including upcoming activities and workshops, visit lalgbtcenter.org/seniors.