By Greg Hernandez
Guests at this week's Over the Rainbow-themed holiday party were encouraged to wear rainbow colors or something related to The Wizard of Oz.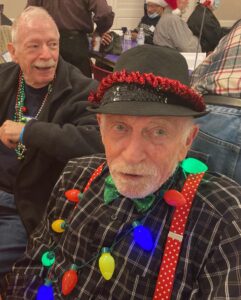 Larry Rubenstein, 78, saw this as a perfect opportunity to further brighten up his already festive holiday outfit by hanging a string of bright, blinking lights around his neck.
"I start with the blinking lights and I add everything to it," Rubenstein joked as he sat at a table with friends.
Rubenstein was among the approximately 200 Los Angeles LGBT Center seniors to attend the lively and colorful afternoon party held for them in Friendship Auditorium near Griffith Park.
The festivities included an espresso bar, a sit-down meal of salmon and chicken, live entertainment, eye-catching holiday photo booths, dozens of raffle prizes, and in the end, some very spirited line dancing.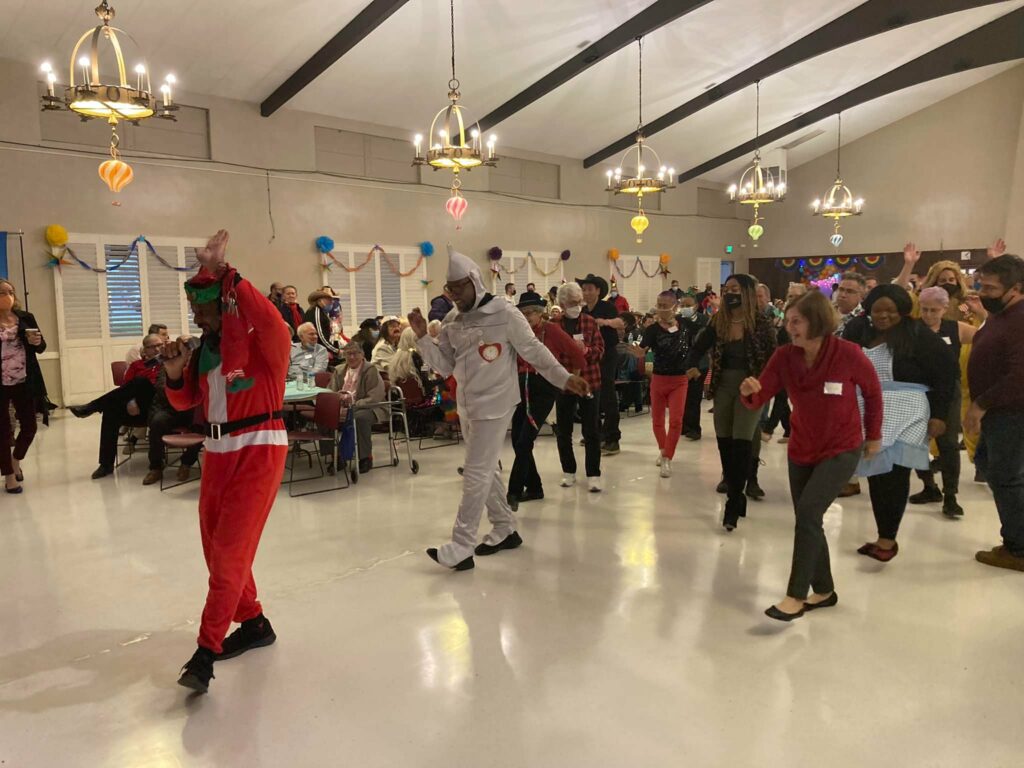 Actress and comedienne Michelle Gilliam, dressed as a senior version of Dorothy from The Wizard of Oz, hosted the variety show portion of the party that included a juggling act and a tap dancing number.
"It's me Dorothy. I'm 96 now!" Gilliam quipped. "There have been 217 Totos at this point. Who's excited to be out and about? I am very sick of the Zooms. I can't do it! Dorothy always ends up on mute!"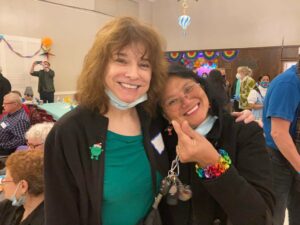 Guest Zenaiea Michael was so caught up in the holiday spirit that during the raffle, she spontaneously donated $50 in cash to be given away. Incredibly, the winning raffle ticket selected for the cash was hers. She declined the prize, of course, and had Gilliam draw another winner.
"How lucky am I?" Michael said, beaming. "It's incredible. I feel so blessed. But I'm even more lucky that I have her in my life," she said of her partner of eight years, Jen O'Connor, who was also at the party.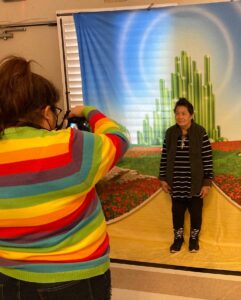 Last year's holiday festivities were reduced to a virtual event because of the COVID-19 pandemic. Guests were checked for proof of vaccination upon entering this year's party.
"We just wanted you to have a good moment," Senior Services Activities Coordinator Spencer Robinson explained to attendees. "We've all been shut down, we've all been frozen out. So, we just wanted to have a moment to connect with friends and loved ones and see things we have not seen in some time."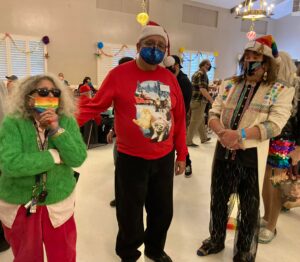 For many of the seniors, it was a time to finally catch up with friends face-to-face.
"It's so wonderful to be with everybody," remarked guest Matthew DuBois. "I've done Zoom calls with lots of these people and it's kind of isolating. It's wonderful to be with everybody and see the effort that the Center has put into this. It feels so good to be remembered."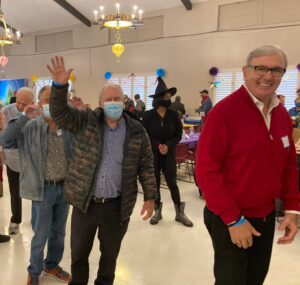 Another guest, Beverly Bassette, doesn't drive and almost didn't make the party but managed to get a ride at the last minute.
"I know a lot of people who wouldn't come, they still won't come out," she observed. "I've come to this party for many years and this is a pretty great crowd."
Tripp Mills, associate director of housing and training for Senior Services, greeted the crowd from the stage at the start of the official program.
"It's been two years since we gathered in this room for the holidays and it's really good to see everybody in person," he said. "We've all been dealing with the pandemic and we've all had to deal with the strain of being alone. It's amazing that we're all here today and we're able to all be together."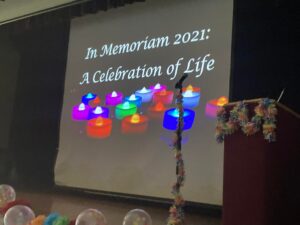 Mills introduced the celebration of life portion of the proceedings which paid tribute to seniors who had passed away during the past year.
Senior Carl Moebus sang a moving rendition of Ava Maria and light applause rippled through the room as the names and faces of seniors flashed on the screen.
"We celebrate their lives," Mills said. "We celebrate their contributions, we celebrate their love and friendship."
The Center's new Executive Director Joe Hollendoner was at the party for the first time and visited with many of the guests at their tables.
Hollendoner, who will succeed Lorri L. Jean as the Center's Chief Executive Officer upon her retirement in July 2022, described the group as "a beautiful, resilient, strong community."
To learn more about the Center's Senior Services, including upcoming activities and workshops, visit lalgbtcenter.org/seniors.