By Greg Hernandez
Because of the COVID-19 pandemic, there have been no field trips to major museums for Los Angeles LGBT Center senior clients for nearly two years.
But thanks to the research and passion of Ignacio Darnaude, the art world came to them recently in the form of the exclusive three-part lecture series Hiding in Plain Sight: Breaking the Gay Code in Arts.
Darnaude (pictured, above) is a former movie studio marketing executive who has spent more than a decade extensively researching gay, lesbian, and bisexual artists throughout history who were unable to express their same-sex desires openly in their work or in their life.
He was eager to share what he's learned.
"Younger LGBT artists need to know that they are not alone, that they come from a tremendous lineage of people who changed culture and revolutionized art history," Darnaude tells LGBT News Now. "I'm doing this as an act of love to spread the word about a subject which I think is very important."
From Michelangelo, John Singer Sargent, and Cecilia Beaux to J.C. Leyenbecker, Frida Kahlo, George Platt Lynes, and many others, a number of artists hid homoerotic images in plain sight or used secret codes to express their same-sex desires.  Darnaude explained that this was the only way they could get away with expressing taboos in their work without facing critical and commercial rejection, and maybe even prosecution.
"It's very important that (the codes) don't get lost because that would erase gay history and we can't let that happen," he says. "By dismissing the relevance of an artist's sexuality in their work, what we are doing is reinforcing the stigma and the lack of visibility of the gay community."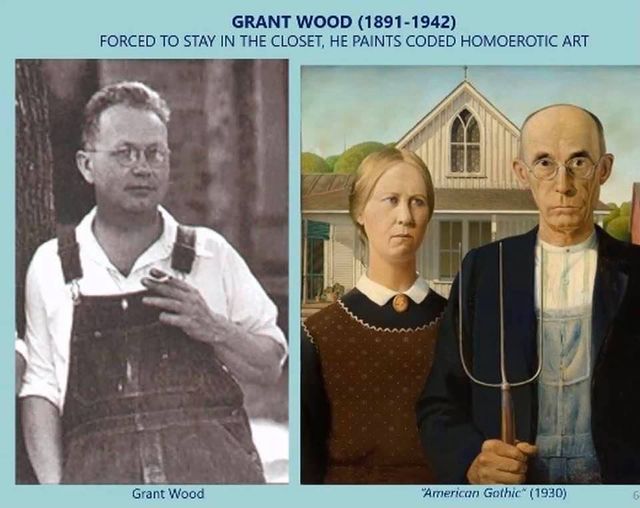 Darnaude shared with Center seniors the fascinating story of American Gothic painter Grant Wood, whose iconic work burnished his image as a homespun artist from rural Iowa.
His oppressive sister, Nan, had posed for his most famous painting. Until her own death in 1990, Nan Wood had denied that her brother, who died 50 years before her, was gay.
Publications and exhibitions uniformly stuck to this false version of his life until a recent retrospective at the Whitney Museum which declared that "Wood's homosexuality is the code that unlocks the truth to his art."
"There are so many examples of the family destroying the correspondence it's earth-shattering," Darnaude said during one of his presentations. "The families were very much aware and were very much trying to avoid the subject. This breaking of the code is usually something that happens way after."
Darnaude had pitched the idea of the three-part virtual series over the summer to Senior Services Associate Director of Programs Michael McFadden who knew this had the makings of an enlightening and rewarding program.
"The sheer depth of research he put into it and the tight precision in which he presents the material makes it engaging and interesting," McFadden says. "The themes and concepts he presented from centuries ago are still incredibly relevant and had some interesting parallels for life today."
Among the attendees for all three sessions was Brian Burchfield who works as a docent at Getty Center and had previously taken a class on queer art.
"I have learned quite a lot from this series because it was so thorough and the visuals were spot on," Burchfield says. "It was eclectic and I was impressed the Center offered it."
Another attendee, Hermina Ban, agreed.
"I very much appreciate it because it just speaks to me and my culture and my people," she said. "I just feel like I'm not missing things by being sheltered at home and not getting out as much. I can still benefit from learning and this was so much more than I expected. I knew there were hidden messages in a lot of art, but I had no idea it was so extensive and going way back to the 15th century."
Darnaude hopes to offer the series again and has long-range plans to make a documentary film on the topic.
"This is not a financial thing for me," he says. "This is hours and hours and hours of work that is very important to me and I think very important to our community. I want everyone to understand the huge impact of queer art in society. My mission is to open people's eyes. The more people whose eyes I can open, the better."
To learn more about the Center's Senior Services, including upcoming activities and workshops, visit lalgbtcenter.org/seniors