It was National Coming Out Day and David Parke Epstein was busy putting the finishing touches on his colorful coming out-themed art sculpture titled Whatever It Takes to Be Free.
The work included people figures made out of wine cork and tiny signs which read "Gay Liberation Front," "Gay Rights Now!" and "Make Love Not War."
"This is about the excitement of being gay," Epstein explained before an evening reception at the Los Angeles LGBT Center's Pride Hall on October 11. "It's looking back at who I was in 1973. I was 23. It was four years after Stonewall, and I participated in Pride March in New York City. It was life-changing for me."
Epstein was one of 10 participants enrolled in the inaugural Sculptural Storytelling class offered through the Center's Senior Services and supported in part by the National Endowment for the Arts. The class is the first installation of the Center's Reflections of a Lifetime series designed to provide seniors with opportunities and tools to share their personal life stories through the arts.
"Some people had never made art ever, and some people went to art school," explained artist, educator, filmmaker and musician Molly Allis who taught the class. "It's the type of class that anyone at any experience level can do and create something really amazing and powerful. It was an honor for me to teach this class."
The sculptures were created during a 10-week workshop where seniors used such techniques as collage, Assemblage, and Papier–mâché. They worked with recycled materials and found objects to make their projects with the goal of learning how creativity intersects with identity.
"There's incredible political history in this room," Allis said. "Some people were at Stonewall, some people were part of the Gay Liberation Front. There's been a lot of challenges and hardships and trauma for people who had to come out at a time when your entire livelihood could be taken away from you. Their stories are powerful; their lives are powerful. They're all smart, interesting, incredible people."
"I'm sad it's ended. I feel like crying"
Shannon Gosch had never taken a class at the Center but when she saw Sculptural Storytelling being offered, she eagerly signed up. She earned a graduate degree from the Museum School of Fine Arts in Boston in 1986 but had not been creating art for many years.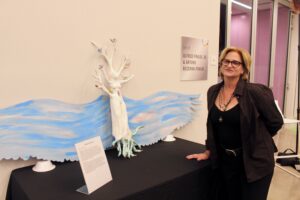 Her work, titled The Awakening, represents her coming out as a lesbian and battling alcoholism.
"This represents those things I had to go through to make me grow," she explained. "It's a tree woman springing out of her past darkness—she's growing into herself. The birds represent creativity and freedom. The roots are made out of snakes and represent some of the past troubles that I've had."
Gosch also describes the class as cathartic.
"It has meant so much to me—brought out all my creativity again," she said. "The connection, the art, the environment of love and acceptance and community. I'm so grateful. I'm sad it's ended. I feel like crying."
Nick Paul's ambitious piece is a temple made of cardboard and Papier–mâché which he proudly titled No Apologies.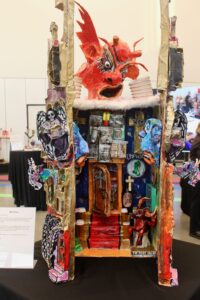 "I'm not making apologies for anything that I've done in the past," he said. "Inside this temple is the story of my life: wild things and places I used to go."
Included is a depiction of a urinal from Los Angeles City College where, Paul explained, "they used to have the most beautiful restroom in the world and, at the time, it was the biggest tea room."
"It was almost like a church. You had to walk up three steps to get to the urinal, and then there were these big windows on each side, and you could look out over the campus," he recalled. "It was the most amazing thing."
His work also includes a red carpet leading up to a closet door representing his coming out as a gay man.
"It was in 1969, and it couldn't have been more exciting or more fun," Paul remembered. "Everyone was coming out. It was such an inspiring time."
"I've been HIV-positive for 40 years"
Larry Trujillo grew a bit tearful while discussing his work The Evolution of Coming Out comprised of nine small framed torsos representing such things as innocence, urban life, aging, and HIV.
"It can be a little emotional because I've been living with HIV for the past 40 years," he explained. "I'm still alive. I went through all the trial drugs from the beginning until now. I'm one of the few survivors who has lived this long."
He looked around Pride Hall with wonder. "Everyone's work is so different," he said. "Given the same concept, the same rules, the same theme and look how different each project is."
Fellow participant Hermina Ban used five boxes to illustrate her coming out journey and titled her work Connecting the Pieces. She used news clippings from various eras as the background for such scenes as her coming out in high school, demonstrating in the 1970s for passage of the Equal Rights Amendment, and her wedding.
"I'm not a writer, I'm not a poet," Ban said. "But this is a way of really sharing my intimate story. Ever since I was young, I loved to build things, and this was a way of putting things together and just pushing my creativity. It was wonderful to work in a setting with other LGBT people. We would listen to and encourage one another."
Epstein agreed.
"This was a deeply felt experience for me, really empowering, and a helluva lot of fun. It really did help me have more worth for my identity and my history. I saw the honesty and the depth which the people in this class expressed—for who they are and for what they've been through."
For more photos from this amazing event, visit the blog gallery.