Ben Teller never thought of himself as an artist. In fact, he didn't think he had a creative bone in his body.
But the Los Angeles LGBT Center's Spirit of Survival: The Ancient Art of Mask-Making workshop not only helped unleash Teller's artistic abilities, it also provided him with a way to process his emotions as he battles cancer.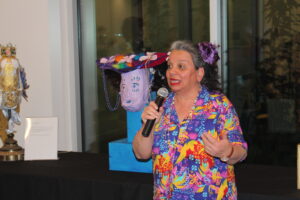 Teller (pictured above) was among 10 seniors who unveiled their deeply personal works at a February 27 reception held at the Center's Pride Hall in the Anita May Rosenstein Campus. The group had worked on their masks during an eight-week workshop funded with a grant from the National Endowment for the Arts.
His mask was inspired by the Hindu goddess Kali who was called upon to fight a demon who, when his blood dripped and made contact with the ground during battle, created clones of himself until there was an army.
"Kali was called upon to vanquish the demon, and she did," Teller explained to the more than 40 guests at the unveiling. "She managed to cut off his head and drink his blood before it hit the ground. To me, that seemed like a metaphor for cancer. The cancer cells are also duplicating themselves throughout my body, and I am fighting it and hope that I will win."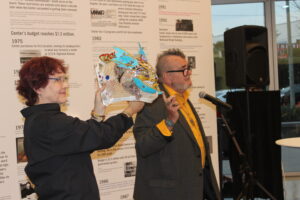 The workshop was organized through the Center's Senior Services and facilitated by mask maker Nick Paul and Anne Stockwell, the founder of Well Again which helps survivors take back their lives after cancer.
"We wanted to give a small group of people the opportunity to get together in a safe space," explained Stockwell, a three-time cancer survivor. "As we told our stories, we just worked on these masks. Sometimes when you start to work on masks, a strange thing happens – it starts to tell you things about yourself. I think this exercise and this journey turns out to be meaningful in ways that we don't necessarily expect."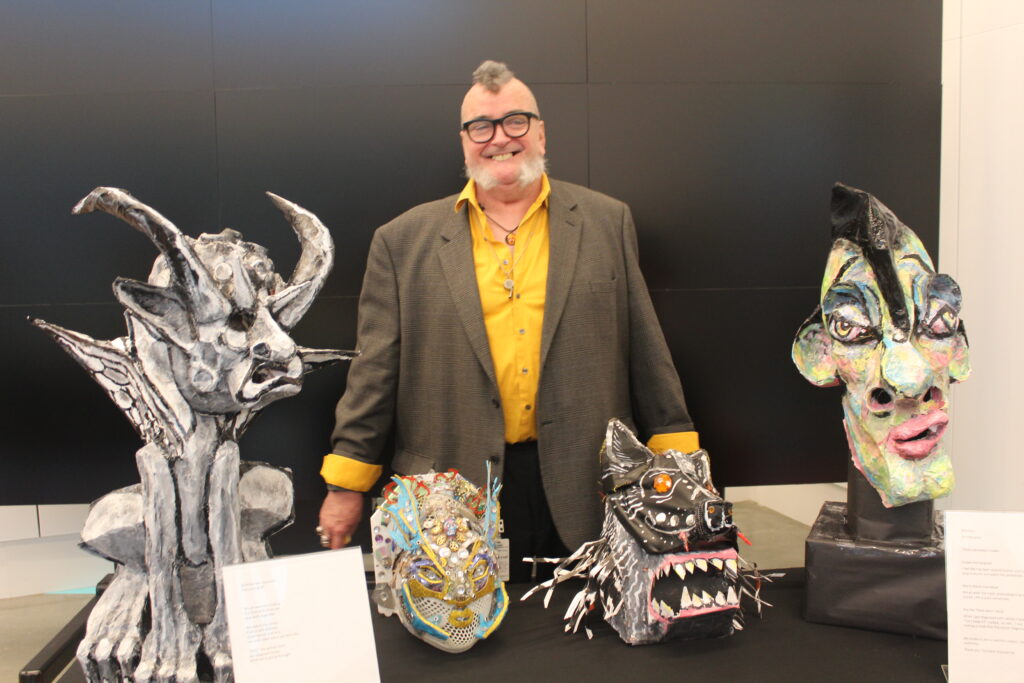 Paul (pictured, above) is also a cancer survivor and unveiled three radiation masks he had made. He explained: "When I got diagnosed with cancer, I loved the mask they put on me and asked, 'Can I keep it?' I was more concerned with the art of making a mask than with the cancer diagnosis."
But, he added in a more serious tone: "We all wear the mask of the lone wolf when we deal with diagnosis. We watch the others from a safe distance down below and only run with them when we feel safe. Only the wolves from our diagnosis know what we're going through."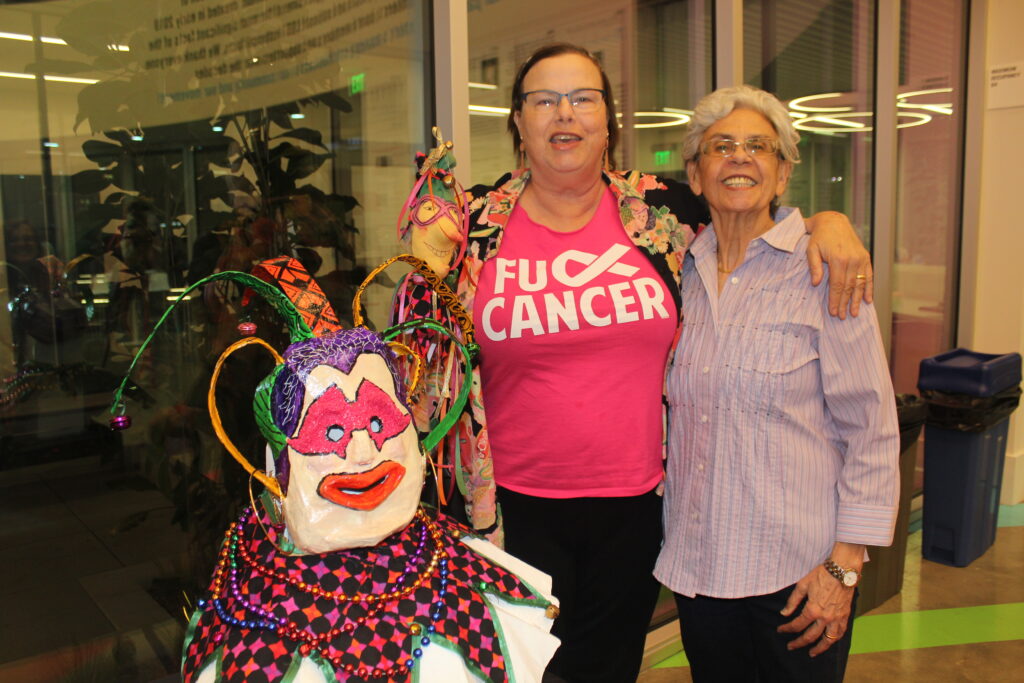 Participant Hermina Ban's wife has been battling cancer for more than two years. Being a caregiver, patient advocate, and cheerleader "has been really stressful and just really heavy," she said.
"I wanted my mask to be something that would counteract that that heaviness," Ban shared with the crowd. "The image of a jester came to me, and it resonated with me. My family always tried to turn to comedy and humor to bridge the gap between people and make people feel warm and friendly. The jester represents entertainment and comedy and humor."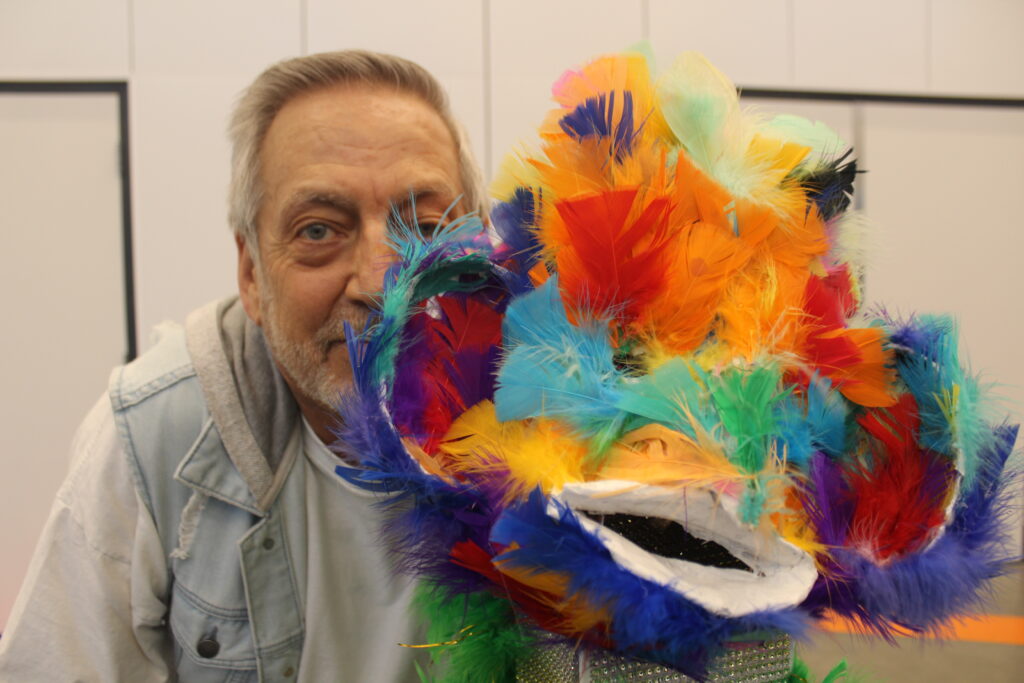 The eye-catching mask made by participant David Joseph (pictured, above) was covered in colorful feathers representing feathers of a bird. He found himself working through his traumatic past during the workshop.
"Like a bird, I flew away from the situation I was in, and I ended up in Los Angeles," Joseph shared. "He was from an affluent Republican family, and I was miserable living a lie and being a people pleaser. I have a real good life today."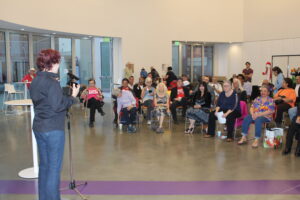 When the workshop was first offered at the Center two years ago, it was geared for people who were impacted with chronic illness. This time it was expanded to anyone dealing with grief.
"When something enormous and dreadful happens in your life, it's bigger than you are," Stockwell explained. "In order to regain your balance and move on, your job is to become bigger than it is. And the way to achieve that is to turn it through pictures and words—whatever is at your disposal—into a story you can tell. Art therapy turns out to be a way to bypass all your logic and help you to get to the place where you really were hurt and it brings up surprising things."
Learn more about the Center's Seniors Services, including upcoming activities and workshops, at lalgbtcenter.org/seniors.