Meet our food and beverage partners for this year's Simply diVine, as they answer four of our burning questions.
We look fourward to seeing you on Saturday, April 27, at Hollywood Forever!
Purchase your tickets today at simplydivinela.org. Use code CAMPUS19 to receive $25 off FOODIE tickets!
---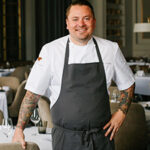 Located in Glendale, Bourbon Steak  offers a timeless dining experience with a flair of excitement. Discover the Piano Bar abuzz with newfound libations and the glamorous dining room boasting tableside services including their signature Japanese Whiskey Cart.
LGBT News Now: Pairing the words "bourbon" and "steak" make our mouths water! How did your restaurant's name originate?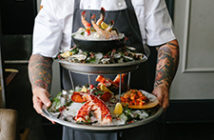 Kyle Johnson, Executive Chef: BOURBON STEAK Is a sophisticated steakhouse that's American in nature, like bourbon. We marry a classic approach with modern sensibilities and together it's a match made in heaven.
LGBT: If we were to take someone on a first date to your restaurant, what would you recommend we order without appearing to be a poser?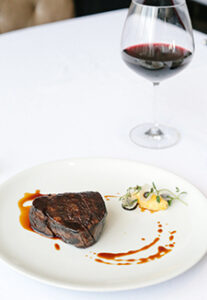 KJ: Honestly anything your heart desires—our goal is to cater to our guests and ensure everyone is having a relaxing time. We're located at The Americana at Brand and so we have a wide diversity of guests coming in. The restaurant features both a beautifully appointed dining room as well as a more casual lounge/bar space, each with unpretentious service. We take pride in every dish and thoughtfully think about every ingredient we use whether it's a Filet Mignon and Potato Puree or something more decadent like our Octopus or Kagoshima A5. At the end of the day, it's all about the guest and the last thing we want is for anyone to feel like they're a poser.
LGBT: This year the Los Angeles LGBT Center celebrates our 50th anniversary. Describe the type of world you want to live in for the next 50 years.
KJ: Simply put, a globally peaceful, undivided one.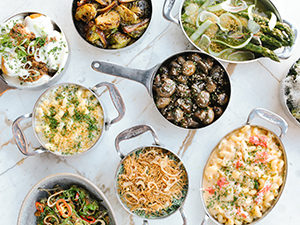 LGBT: What really happens when a guest sends back the steak?
KJ: We fix the problem. I'm honestly a bit over the stereotypes of chefs and kitchens, even if some are true. As chefs, it's up to us to fix that perception. A mature chef understands we work in a service industry and it's about people and making them happy. It's not about who is right or wrong. We'll also probably send a small treat out to the table while the steak is being re-fired.