Meet our food and beverage partners for this year's Simply diVine, as they answer four of our burning questions.
We look fourward to seeing you on Saturday, April 27, at Hollywood Forever!
Purchase your tickets today at simplydivinela.org. Use code CAMPUS19 to receive $25 off FOODIE tickets.
---
The old city vibe and flavors of Tel Aviv's Jaffa neighborhood are imported to L.A.'s eclectic 3rd Street district. Chef Anne Conness' modern take on Israeli cuisine—together with Pastry Chef Natasha MacAller, Lead Bartender Aly Iwamoto, and restaurant partners Nancy Vrankovic and Brad Conroy—integrates spices with a deep focus on diverse, locally grown, freshest of fresh seasonal ingredients, as well as meat well-raised, and sustainable selections from the sea.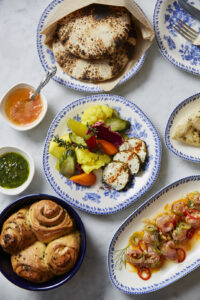 LGBT News Now: We're excited about Jaffa being our first Israeli restaurant to try. What should we order?
Anne Conness, Chef Partner: At Jaffa, it's all about sharing dishes so bring a bunch of friends! Start with a Party Punch Bowl—my favorite is called "Group Therapy." Then just start ordering stuff. You can't go wrong. Some of our most popular dishes are Sweet Potato Hummus; Turmeric Roasted Cauliflower; Spaghetti with Moroccan Saffron Butter; Lamb Couscous; and Charred Eggplant Tahina with Cherry Tomatoes and Dukkah Spice and Nut Blend. We are serving the Eggplant Tahina at Simply diVine. This dish has successfully converted many an Eggplant hater.
LGBT: Your restaurant is named after the neighborhood in Tel Aviv. If we were to visit Jaffa, what do recommend we do and see there?
AC: Tel Aviv is a dynamic city, and the neighborhood of Jaffa is a big reason why. Take a day to walk around Jaffa—it's where old world meets new world; shawarma joints, galleries, tech startups, and antique markets. The restaurant operators raise their metal doors and seem to toss a bunch of furniture and chairs into the alley. In no time, the place is filled with young people, old people, Muslims, Jews, gay, straight. So fun, and you can strike up a conversation with anybody.
LGBT: Becoming vegan or vegetarian seems to be the new normal. How has your culinary team adapted to that movement?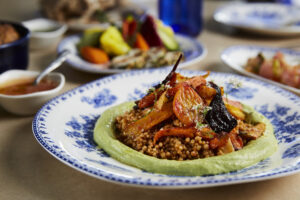 AC: The trend towards plant forward menus was easy to incorporate into the Jaffa menu. As it turns out, many Israelis are Vegan or Vegetarian. And between the freshness of the produce and the magical spice combinations that are used, you really don't miss the meat. Really.
LGBT: We admire your hospitality to "invite us to your table." If you could invite three famous people—past or present—to your table, who would they be?
AC: Three people at the table…. I'd say Pete Buttigieg, the Dalai Lama, and Oprah Winfrey. After I cooked dinner for them, I'd sit down at the table and politely task them with unf–king the world!