Meet our food and beverage partners for this year's Simply diVine, as they answer four of our burning questions.
We look fourward to seeing you on Saturday, April 27, at Hollywood Forever!
Purchase your tickets today at simplydivinela.org. Use code CAMPUS19 to receive $25 off FOODIE tickets!
---
Hock+Hoof

owners Kat Hu and Justin Yi take classic dishes from around the globe, with an emphasis on carnivorous delights and Asian flavors, and reimagine them using French culinary techniques to create innovative and artistic dishes.

LGBT News Now: We need to know: How did you come up with the restaurant's name?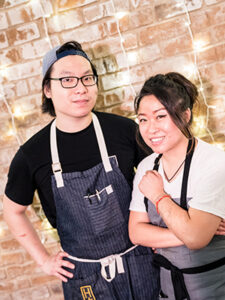 Kat Hu: Justin and I came up the name one day as we were driving down the 60 freeway. I thought to myself, since we wanted a meat-centric concept, what's better than coming up with something that represents that? Thus, Hock+Hoof was born.
LGBT: Your restaurant is described as "quintessential L.A. cuisine." How exactly do you define L.A. cuisine—and does it include an In-N-Out Burger?
KH: Well, what is LA cuisine? LA isn't like NYC or Chicago or SF that has an already established food scene that is its own. LA cuisine, on the other hand, has great authentic ethnic foods such as Chinese food in San Gabriel Valley, Thai food in Thai Town/ Hollywood, great Mediterranean food in Glendale, Korean food in Ktown. The list goes on. What we do here at Hock+Hoof is use generally unfamiliar ingredients which are authentic to different cultures and bring them to an approachable setting where we can showcase the huge melting pot that is LA.
I LOVE IN-N-OUT! It's a great burger, and those of us in LA are very lucky to have it whenever we want. But I don't know if IN-N-OUT would necessarily be LA cuisine.
LGBT: Tell us a story about the most unforgettable—and perhaps strangest—meal experience you've had while traveling around the world.
KH: About two years ago, we took a trip to Phnom Penh, Cambodia. We stayed at a hotel on a main street. Right next to that hotel was a street market that had some street food stalls and fruit stalls. Walking through that market, we decided to try everything and everything was AMAZING. We had fruits that we had never seen anywhere else before, and they were delicious and beautiful and definitely UNFORGETTABLE. Also the street food OMG … will definitely good back!
LGBT: The Los Angeles LGBT Center is celebrating our 50thanniversary this year! As our allies, what do you think we need to focus on in the next 50 years?
KH: The Center has been doing an amazing job in the last 50 years, and it will continue to do so in the next 50. You guys have our full support!